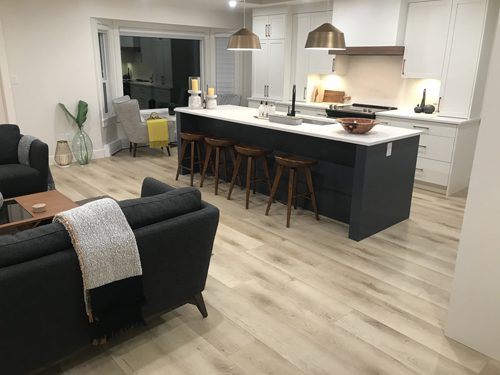 The market for vinyl plank keeps growing as people become more aware of it's benefits. It has the look of real wood with no concern for water damage. This means you can run it right into kitchens and bathrooms with no worries. When people talk of vinyl plank it can be confusing because of the rapidly growing types of vinyl being added to the market every year. There are so many different thicknesses, construction types, install methods, surface finishes and bevelled edge types to consider that it becomes difficult to make comparisons. To further complicate it, not everything that falls under the vinyl plank category is even made of vinyl any more.

At Origin, we don't want to overwhelm you with all the options so after many years of experience installing and sourcing out the latest products on the market we have narrowed our options down to what we feel offers the best look and characteristics to fit the needs and desires of our customers. We have chosen a few different lines that have built in underlay (cork or foam), effective clicking systems that are strong yet easy to install and are following the modern trends of designers. Each of these collections has it's own characteristics that we can walk you through to determine what is best suited to you. All of our collections have either a WPC or SPC core, each with their own benefits.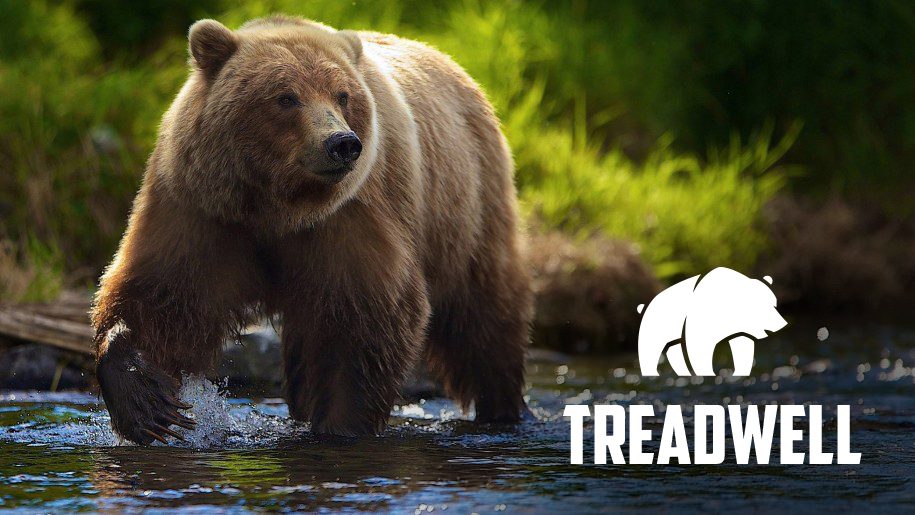 We are the most excited about our new Treadwell Collection which represents the latest evolution in vinyl plank. For this reason we have chosen to carry full planks of most of our colours from this collection in our mobile showroom. Each colour is suitably named after a river as this floor is 100% waterproof. We tested this and after 2 months fully immersed in water, it remained unaffected. We have also tried our best to dent this floor as well with rocks and hammers. Let's just say it's not easy.
Some additional benefits are:
Very low maintenance
Non toxic (no formaldehyde etc.)
Radiant heat approved
Kid and pet friendly
Hypoallergenic
Fire retardant
100% recyclable
Treadwell Planks

Treadwell has an SPC core (stone polymer composite) that is extremely dense and stable, and it is 100% waterproof. This means no expansion and contraction issues and this floor can cover a very large area with no breaks in the doorways for a seamless look. These planks are about ¼" thick which means they can often be installed over other flooring (like wood or tile) without causing height problems. The 9" wide planks come in about a dozen different colours and are 5 to 6 feet long. Many of them have a wire brushed oak appearance with registered embossing which means the etching of the grains follows the image of the wood for a more of an authentic wood look. What you see is what you feel.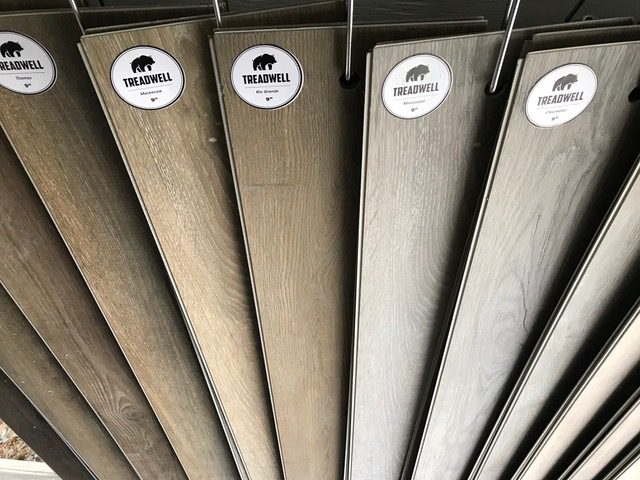 CONTACT US TODAY FOR FREE SAMPLES!